Are you looking for high quality, natural, plant based essential oils, cleaners, supplements, makeup, CBD and more? I can help you get all the best products I recommend. It's so easy to set up an account and place your first order. All the info you need to get started is below!
For a long time I spent my days miserable over how I felt. Vitamin deficiencies, arthritis, hypothyroidism, chronic fatigue,
patellofemoral dysplasia, the list grew longer and longer each year.
I was drawn to natural solutions but it took me so long to finally make the first step. My only regret is not starting sooner!
It couldn't be easier to start your healthy home journey. These kits are like the easy button on discovering natural products for sleep, emotions, skin care, digestion, anxiety, focus, hormone support, immune support, cleaning home, wonderful scented home without toxic fragrances/perfumes/candles/sprays.
Just grab your starter kit or basic kit below at wholesale prices and you'll instantly be a wholesale customer with your own account. No further obligation to buy anything and no fees, I promise it's wonderful!
To get your Young Living account with me, just grab your wellness starter kit with this link and choose between:
The Basic Kit – $35 and comes with one of my all time favorite calming essential oils, Stress Away (vanilla lime dreaminess!), Thieves Hand Sanitizer, and other samples.
The Welcome Home Kit* – $125 and only available for a limited time, comes with 8 oils including all the ones I use in my Anthro volcano diffuser blend!

Frankincense
Lavender
Peppermint
Valor
Grapefruit
Lemon
Tangerine
Lime
Wooden Oil Rack

Premium Starter Kit* – starts at $165 and comes with 12 oils and a diffuser of choice…. I highly recommend this option, it's how I got started with the oils that changed my life! Oils in this kit:

Peace & Calming
Stress Away
Peppermint
Lemon
Thieves
Valor
Digize
Citrus Fresh
Raven
Lavender
Frankincense
PanAway
Also comes with Thieves Hand Sanitizer and Thieves Surface Spray (both meet the CDC guidelines for disinfectants)
2 NingXia packets.

Thieves Kit* - $125 and comes with everything you need to switch to toxin free household products! Including:

2 bottles of Thieves Household Cleaner Concentrate – each bottle makes up to 30 bottles of all-purpose cleaner (60 total) This is my all-time favorite cleaner, the ONLY one I use!
Thieves Mouthwash
2 Thieves Foaming Hand Soap
Thieves Aromabright Toothpaste
2 Thieves Hand Sanitizers
2 Thieves Surface Sprays
15ml Bottle of Thieves Oil
Or you can also choose a CBD Kit, or NingXia Kit! All highly recommended!
*JUNE BONUS FREEBIES!

Place your order for your Premium Starter Kit or the Welcome Home Kit in June and you can get a gift from me! Deals from me cannot be combined, though, so be sure to let me know if you prefer $25 cash back or this month's bundle!
Glass Spray Bottle
Sample Thieves Household Cleaner Concentrate
Three Essential Oil Samples
Oily Life Guide book
Custom Recipe Cards - for how to use the oils in your kit!
PLUS, you'll also get a bottle of Citronella oil and $10 YL Shop Credit points, FREE, just for saying YES to Essential Rewards with your starter kit! (you can cancel anytime).
Grab your Premium Starter Kit or the Welcome Home Kit HERE with my link to get the freebies!
There are NO FEES or obligations!
*
Essential Rewards is an optional customizable monthly box
, but I definitely recommend selecting it now to get the freebies, there is really no down side. I've ordered my household products this way for five years to get AN EXTRA 25% back in product credit with every order ON TOP OF the 24% off wholesale prices. SO AFFORDABLE!
I would suggest putting Thieves Household Cleaner and Thieves Laundry soap in your essential rewards box for next month. You don't pay until it ships so you can change your mind if you want to!
You can always cancel essential rewards any time (but I bet you won't want to, you'll love it!).
As a Dwell Well Collective member, you'll feel equipped and empowered to begin transforming your home (and your life!) immediately! We share tons of helpful tips for using essential oils, recipes, free wellness classes, inspiration to detox your home and more.
Once you have your YL account you'll have access to shop anything on Young Living's website at a wholesale discount.
There are NO fees, requirements or obligations… you just shop when you want to for whatever you want! Basically like Costco but for wellness products (except with YL it's free for life once you're a member). It's the best.
Don't forget, if you select your Premium Starter Kit to be your first Essential Rewards order, you'll get extra freebies and points back.
Questions? Email me at oils.thebohoabode@gmail.com!
Young Living has so much more than oils! We get so many of our toxin-free household products from YL. Things like toothpaste, mascara, face wash - there's truly so much to choose from and love!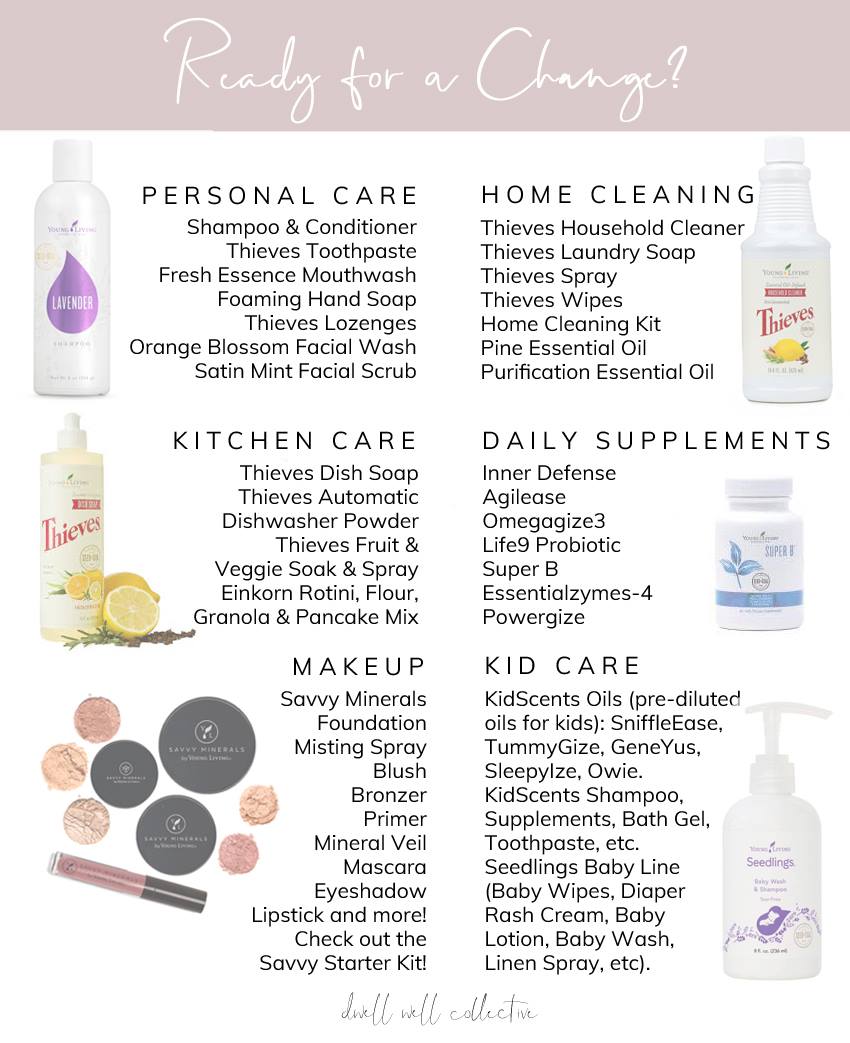 WHY YOUNG LIVING?
There are lots of essential oils out there, many that use fillers and fragrances that are NOT good. Young Living has the absolute best essential oils that you can get - I wouldn't use any others.
Here are just a few reasons why:
Young Living has over 25 years of experience in the industry
They own their own farms that you can actually visit
They practice organic farming process from seed to fruit
Their rigorous testing for purity and therapeutic viability is unparalleled
They have the largest selection of single oils and blends available
Their "Seed to Seal" promise is amazing
QUESTIONS?
Email me at
oils.thebohoabode@gmail.com
DISCLAIMER:
My statements about Young Living Essential Oils have not been evaluated by the FDA. These products and information offered are not intended to diagnose, treat, cure or prevent any disease. Anyone suffering from disease or injury or on prescription drugs should consult with their physician.